Commodore Amiga platform
Aegis Sonix article, part II
Take a trip back in time, and listen to some of the work of Peter Andersen.
Sonix scores
And now to the good stuff. On my own set of Sonix floppy disk's I've found a few original Peter A scores. Below, find some of the first three scores, he made, that had some potential.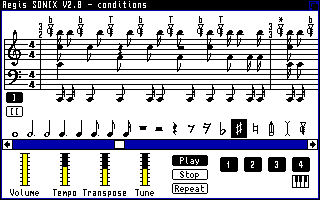 Disclaimer: Some samples/sounds may not be 100% original as I don't hold a copy of Peter A's original Sonix instruments disks and therefore I may have replaced or recreated some sounds – as lousy a sound-designer as I am
The track 'This is my generation' was to my recollection, named after a 'The Who' song, of almost the same name: 'My generation'.
The main tune from 'This is my generation' was also used in a collaboration, between Peter A and me, called 'Pling plang cykelhjul'. I hope that somehow, it will be possible to resurrect that track in the future. At the moment, many of the samples has "gone bad" due to floppy deterioration.
Further reading
Sonix – The originals, part 2 (this page)