Commodore Amiga platform
Take a trip back in time, and listen to some of the work of Thomas Canell.
Aegis Sonix article, part I
Sonix scores
Before we get to the good stuff, I have to present my first (or at least I think) Sonix score.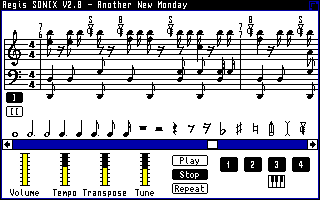 This was a typical "me" track from the Sonix era, heavy on the drums, standard octave bass and without a main tune what so ever. I think the title of this track, is in relation to 'Blue Monday' by New Order, to let them know that I had made a follow up to their great success and all they had to do was call! – Totally conceited.
Further reading
Sonix – The originals, part 1 (this page)