PC Platform
Take a trip back in time, and listen to some of the work of Peter Andersen, Peter Jørgensen and Thomas Canell.
I do hope that this is the complete list of composers and that "unknown" is one of the three and I just don't remember who did the specific track. But in case that I'm wrong, I'm sorry for not sharing the correct credit
Lets get busy.
In the track lists below, you'll see comments like below – and this is the explanation:
(Demo) is an incomplete original MasterPlayer track
(Port) is a converted track from 3-4 to 9 channels
(Raw) is a 4 channel imported track – default sounds only
(Incomplete) is a partial converted track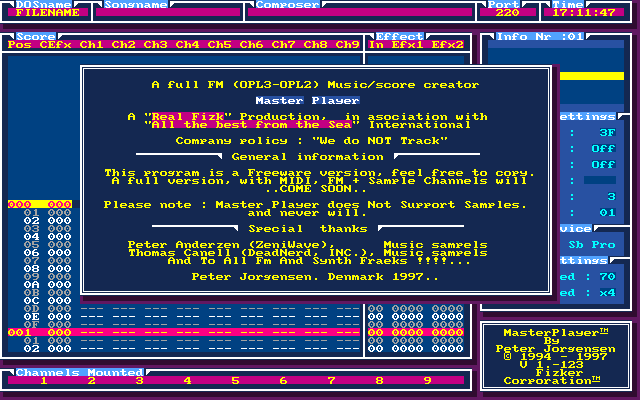 Thomas Canell
While Peter J developed the MasterPlayer program, he needed testing of the program and the new features – and he needed a lot of testing! At first, I didn't want to use MasterPlayer, but eventually I "got around" and started creating tracks.
Peter J created a feature to import Amiga Editor tunes into MasterPlayer, so a large number of ports or conversions are to be found here.
Peter Andersen
As Peter A and I was working separate music floppy disks, I never had Peter's original score files and therefor I only have one or two of his tracks on this site. But while running through my MasterPlayer folder, I found a number of Peters converted tracks.
Once again, most of these conversions was created to test the MasterPlayer program, so he didn't have to create all new tracks in an program under heavy development. Peter J did 99% of the conversions work (import, sound design and effects trimming) and then Peter A might have "micro-redesigned" some of the sounds himself.
As these are originating from the Amiga, Peter J only imported and converted the complete tracks – resulting in no (Demo) tracks.
Peter Jørgensen
During the development of MasterPlayer, Peter J was forced to create some music scores for testing – either to test score effects or just new sound routines. This resulted in a few tracks.
As Peter J didn't have the Amiga – but had the Atari ST – the ported tracks was created in Editor for Atari ST and then moved to the PC.
Unknown
Below are some tracks that isn't credited with creator or other relevant details, so these are unknown …
I specially like the last track 'Tjaa1' – great groove.
Collaborations
Half of the tracks here are ports from Amiga and Atari ST but this still leaves 50% as original MasterPlayer tracks.
Enjoy!