Commodore 64 and PC platform
This is the story of Future Crew, told by them self through the FCINFO17.txt file, dated December 6. 1994. This is a rather long story, but not at all boring, so sit tight.
I've done a few very minor tweaks to the text but it is still 99% Future Crew
1986-1987
Future Crew was founded in the year 1986 on the C-64. And only one member has been in the group for the whole time – Psi. Future Crew did two demos on the C-64 before moving into the PC scene in the year 1988.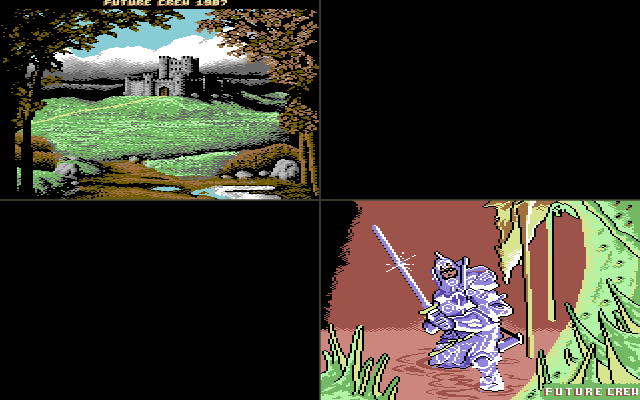 1988
Future Crew's first PC demo was a EGA sinus -scroller called GR8. At that time the members were: HAL, JPM, SS (Psi) and SIDDER. And DARK POWER was Future Crew's BBS.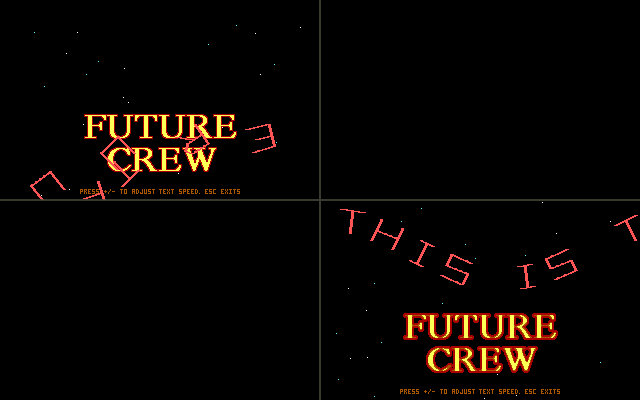 1989
Then there came YO! which was quite popular for a while. It used one of the VGA's textmodes and included 'nice' PC-speaker music. It had many scrollers, a sinusing YO!-logo, a little bouncing ball and a 2D-starfield. At this time ICE joined and so Future Crew had another BBS – SILICON DRAGON.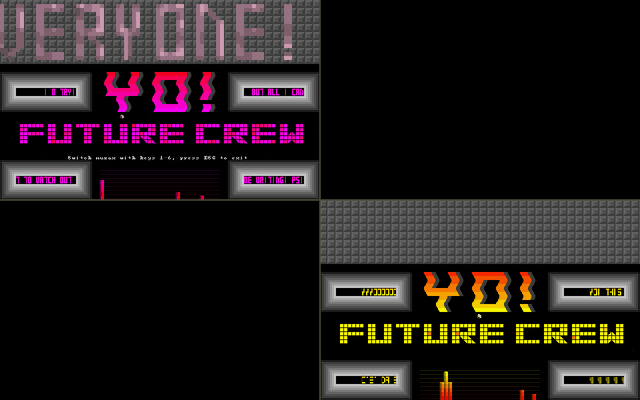 1990
In the year 1990 there was only one demo release from us, the Slideshow I. It was the first PC demo which included 4 voice SoundBlaster music. It didn't include any other special code for it was a VGA picture slideshow. And at this time there were a lot of members in Future Crew: Psi, ICE, HAL, JPM, SID, BIG, DAC, MAC and SEBU.
Only shortly after Slideshow I, Psi released his Scream Tracker 2.0 a 4 voice music editing program inspired by the Amiga SoundTracker. ST 2.0 was a real success.
1991
In summer 1991, Future Crew released a demo called Mental Surgery. It had a big scroller on the top of the screen, 3D-starfield, a nice writer, music scopes and of course 4 voice SoundBlaster music. This was the last Future Crew demo that worked on a 286 machine.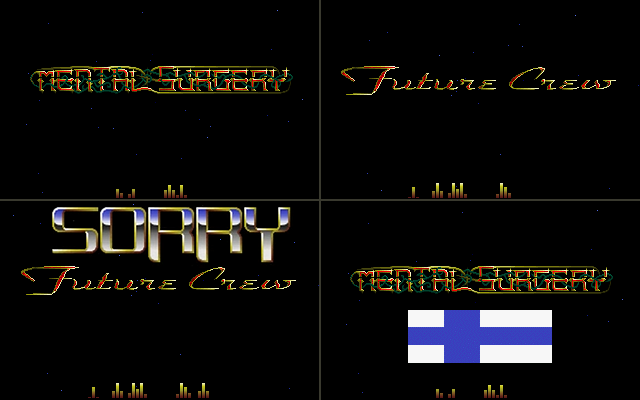 Demo: Mental Surgery @YouTube
At this time the members were: Psi, ICE, Dr. Venkman and Purple Motion. Little after this I (GORE) joined Future Crew and ICE lost the interest in demos and left Future Crew along with his BBS.
1992
So, Future Crew lived quietly for about half a year. But when the year 1992 came Trug, Pixel, Skaven and Abyss joined Future Crew. And as Abyss joined, Future Crew now had a BBS again, called StarPort.
So, in the beginning of the year 1992 Future Crew had the following members:
It was at this time that we had begun making Unreal. Our first plan was to release it at Mega-Leif Convention – An Atari ST/PC party held in Uppsala, Sweden. But about a month before Mega-Leif, MeeGosh/Rebels (Amiga) called me and told me about Assembly'92 and that it would be cool to have also the PC scene there.
So, he asked us to do an invitation intro for the PC scene about this mega-event. We agreed and so, Unreal was put to rest as Psi got the idea of making something different – namely the Fishtro.
It took us about two weeks to create Fishtro from nothing, but when we went to Mega-Leif Convention, we still had a few little bugs in it and therefore we couldn't release it until a week after Mega-Leif.
After we came back from Mega-Leif, we started on making Unreal again in order to get it finished for Assembly'92.
In July '92 came Assembly'92, and we won the demo competition with Unreal. Around 1000 people attended this party, which wasn't so bad as it was being held for the first time. The total amount of PC people was 300.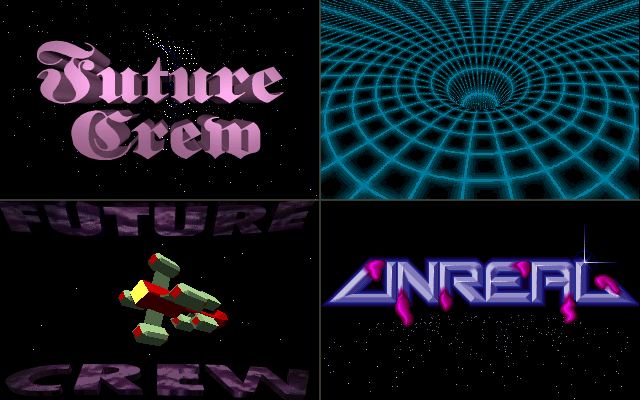 After this we were contacted by the organizers of a big Amiga/C64/PC party, called The Party 1992. They asked us to organize the PC demo compo there and to make an Invitation Intro for it's PC side.
At that time we had the following members: Psi, Trug, Wildfire, Pixel, Purple Motion, Skaven, Abyss and GORE.
The Party 1992 Invitation Intro was mostly coded by Psi and WildFire. WildFire was our new coder who joined us in autumn 1992. He had before been active on the Atari ST scene.
Then it was the time for another big demo. The making of Panic began. It was the normal process of making demos with blood and sweat and annoying deadlines. Wildfire was the one to assemble the demo together, but lots of code was also done by Psi and Trug.
Then it was the time for The Party 1992. As we thought that it would be really nice to get as many people as possible to The Party as cheaply as possible, we decided to organize a bustrip there with the Amiga people. So we managed to load two buses full of computer freaks and start our trip to The Party.
At that time The Party 1992 was the biggest demo party ever. There were about 2500 computer freaks of which around 300 were PC dudes. There we entered the demo compo with Panic, and to our surprise we came second. Witan's Facts of Life had won the demo compo. We were quite disappointed by this, because there was absolutely no voting.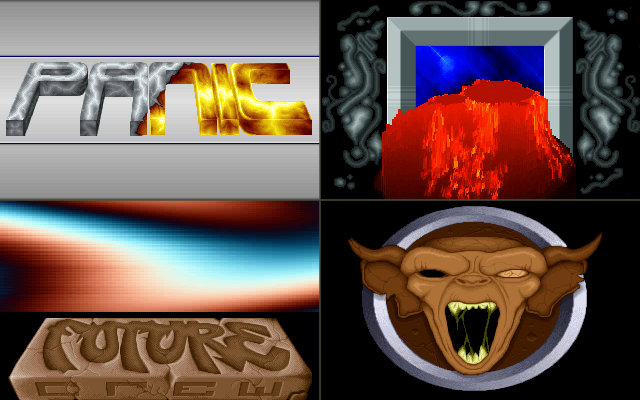 The voting system on Amiga just didn't work. And then some Amiga organizer just asked the last remaining PC organizer (A member of Danish Elite) "What do you think were the best PC demos?" without telling him that these were going to be the official results. And without thinking the PC organizer just said "Witan's, Future Crew's and Sonic's".
However, The Party 1992 was a nice party.
1993
After The Party 1992 we lived quietly for awhile. The only big change was that Marvel (formerly in Sonic Amiga) joined us. So we now had two GFX artists. Then we began thinking of making a disk magazine (Worldcharts).
At first nobody really wanted to code it, so we thought that we would make it as a co-operation with Stone (a finnish demogroup). But after some co-operation trouble we began making it 100% by ourselves. Only the first issue was released. Then we decided to stop making it, for we had other more important projects to attend to.
Then it was the time for Assembly'93. Once again we were the PC organizers and we made an invitation intro about it.
Invitation: Assembly'93 @YouTube
Assembly'93 was the biggest summer demo party ever. There were about 1500 people on the party place of which around 550 were PC demo freaks. Assembly'93 was also a big advancement on the PC side. For the first time we also had an intro, a music (4 channel and multichannel) and a graphics competition. Second Reality was also first presented at Assembly'93.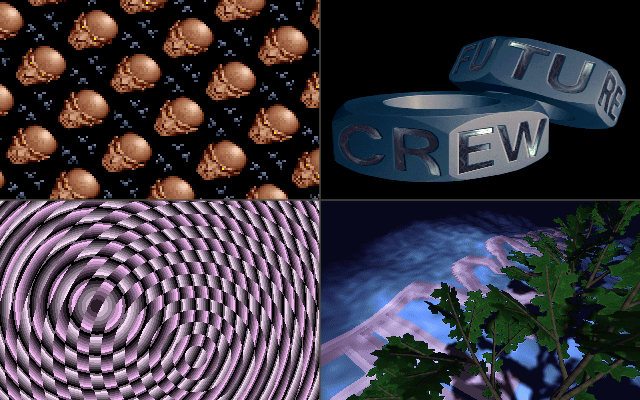 Next was The Party 1993 (also known as The Party 3), and all we can say is that it wasn't such a good party as it could have been. This was NOT the fault of the PC organizing group Access Denied, but instead it seemed that the Amiga organizers had underestimated the PC side and thus treated the PC side somewhat unfairly. Already then, there is some talk about organizing a PC-only party for X-mas'94.
Anyway, we released the GUS version of our old Assembly'92 winner demo Unreal, and Purple Motion's music disk called Journey (which also includes the MDP – our MOD/S3M player for GUS/SB/SBPro).
1994
Future Crew is now almost 8 years old. We had big plans for this year, both in the demoscene and in the commercial market. We organized Assembly'94 with Accession, Sonic PC, Virtual Dreams and The Movement.
It was a big party, with about 3000 visitors. It was held on August 5th-7th in the center of Helsinki (the capital city of Finland). Our major release this year has been the long-awaited Scream Tracker 3, a project which has been in the making for over 2 years.
Next, Future Crew will go traditionally to The Party '94, held again in Herning, Denmark, just after Christmas.
End transmission
Aftermath
Scream Tracker 3 was the last official release as Future Crew and even though Future Crew officially have retired, they haven't dissolved as a group. Future Crew is still to be considered one of the most important and influential demogroups ever.
Source of inspiration and material: DemoZoo, Scene.org, Future Crew.com, the Future Crew 12 & 17 info files & Wikipedia