Commodore Amiga platform
Take a trip back in time, and listen to some of the work of Lizardking, Some1, Prime and Colorbird.
If you owned an Commodore 64 or Amiga in the late 1980's or 1990's you will have heard the name "Razor" or "Razor 2992" or "Razor 1911". To me they were only Razor.
This is the "Doskpop – The Compilation" music disk. Doskpop – a concept developed by Gustaf Grefberg and Joakim Falk. Just sit back and enjoy this music compilation.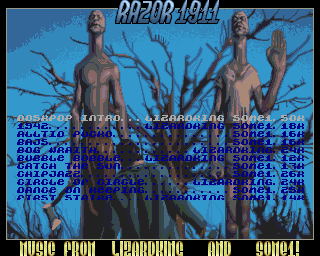 I think that at least 50% of all the game releases and other software I saw in the 90's had the Razor tag attached. They were involved in everything.
But I never thought – or more likely remembered – that Razor was that involved in the demoscene as the actually were, and never in a million years would I have thought that Lizardking was a member.
Source of inspiration and material: DemoZoo, Kestra BitWorld & Wikipedia