PC Platform
Triton was a Swedish based, short time active demogroup working on the PC.
They released two demos in their short existence but also a music tracker for the PC – and not just any tracker – This was the FastTracker 2/FastTracker II.
Crystal Dream
Compared to Future Crew's Unreal demo, the effects in Crystal Dream was equal as great. In the categories of music and graphics my vote would go to Triton in a heart beat.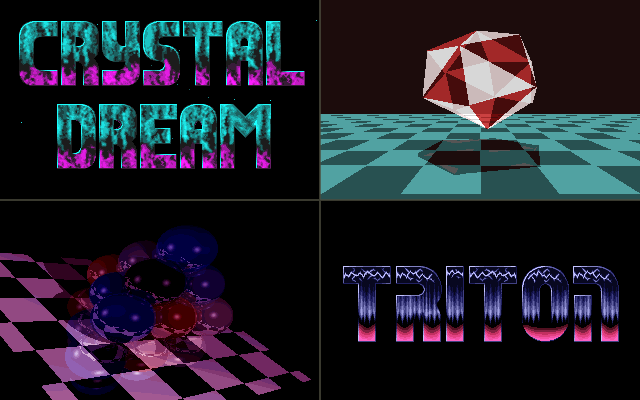 The music is more fitting a demo in Crystal Dream, where Unreal might have a better feel in the music part in regard to the flow of the section of the demo, but still the music from Crystal Dream can be played over and over again. And remember, this is still in the 4 channel .MOD format.
Crystal Dream 2
With Crystal Dream 2 (or Crystal Dream II), they have brought onboard Lizardking that also was an active member in Razor 1911.
Again, the demo was a combination of star fields, advanced scrollers, 3D objects, mathematic renderings, 3D worlds with light effects and raytraced images – and even greater music.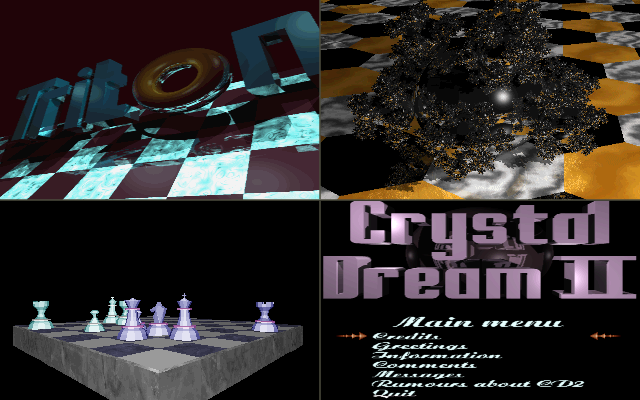 Both Vogue and Lizardking produced two tracks for this demo each.
Lizardking (Gustaf Grefberg) together with Joakim Falk, created the music style: Doskpop (Disco and Synth combined Pop) and the two tracks from Lizardking above gives a nice demonstration of this new music style.
Crystal Dream 2 was their last demo as Triton.
FastTracker 2
As mentioned in the Future Crew article, the PC was seen as the underdog on the demo scene for quite a while, but when musicians (amongst others) saw the short cummings of the Commodore Amiga and the .MOD file format, they moved quickly to the PC.
This would require some serious upgrade of the music software, though – and some of the hardware.
FastTracker 2 – Maybe the best music tracker ever created. It was developed by Fredrik Huss (Mr. H) and Magnus Högdahl (Vogue). It was first released in 1994 and the final version was released almost three years later (2.08). A version 2.09 was leaked sometime later – and this is still a beta.
Their first release of FastTracker was a true .MOD version, but was able to extend to either 6 or 8 channels nad with FastTracker 2 it was possible to extend up to 32 channels, using the FastTracker 2 .XM file format, if used with a SoundBlaster sound card by Creative Labs.
At that time, up to 80-90% of all homebased PCs had a variation of a SoundBlaster sound card – after IBM "lost" their battle of the PC hardware monopoly, resulting in almost any hardware manufacturer now could make hardware for this fast growing platform.
Other popular sound cards was the Sound Galaxy NXII by Aztech Labs and if money wasn't an issue; the Gravis Ultrasound (GUS) by Advanced Gravis Computer Technology, Ltd. with 32 channels of crisp sample sounds and great MIDI support.
FastTracker 2 was the top shelf of the tracker evolution – this could fulfill your wildest dreams. With FastTracker 2 at your side nothing was impossible.
Beside superior music/score editor functions, FastTracker 2 also included a rather advanced sample editor, an instrument editor, MIDI support and also the ability to rip directly from a CD.
If you ever need a break, FastTracker 2 includes a game of Nibbles. And if you ever owned a Nokia mobile phone you will know the game as a variant of Snake. The original game dates back to 1976 with the two-player arcade game Blockade.
Note: Whenever FastTracker 2 are about to be closed down, a number of different questions are displayed – and not just the standard: "Do you really want to exit?" – rather amusing and very inventive
The instrument section was often used to present the track and artist and maybe a few shout-outs to groups or other composers that may have supplied samples or ideas. At other times the section was used just to rant!
FastTracker 2 may have been put on hold indefinitely, but the spirit of the music tracker still lives on …
Into the Shadows
In 1995, a character demo from the upcoming game "Into the Shadows" was released by Triton. This was a rather promising game, compared to other game engines on the marked at that time.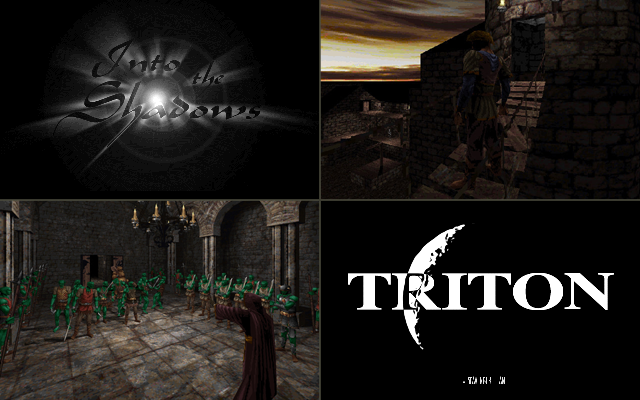 Credits for the game was as follows, event though, the music score sometimes are credited to Lizardking and not Vogue
Magnus Hogdahl & Fredrik Huss – Programming
Mikko Tahtinen – Main art
Jens Schmidt – Main 3D design
Magnus Hogdahl – Additional art & 3D
Magnus Hogdahl – Music
The game was never released, though.
Source of inspiration and material: Pouet.net, DemoZoo, talonbrave.info, starbreeze.com, artstation.com & Wikipedia