MSX platform
Take a trip back in time, and listen to some of the game music from an Activision game.
I think that this was one of the first games I played on a home computer, well the MSX at least. AND boy – did I suck. Back in 1984-85 this had to be one of the most difficult games ever made. Just trying to trap a ghost in one of those traps, without crossing the streams – NEVER cross the streams!
This game was from the era when credits didn't matter. And this is "proven" by a number of game titles without any composer directly credited. On a rare occasion a "group" (read: company house band) was credited, but this is only a rare occasion.
When all this is said, this isn't all that great of a "music score". 99% is Ray Parker jr. essence and the last one percent is lack of imagination. But it was, what it was – and back then and we loved it.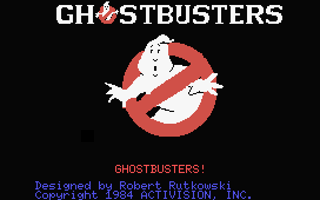 Game music from 'Ghostbusters'. Game was created by Activision and was released in 1984 by Activision.
Source of inspiration and material: Wikipedia