Another Music Disk by Future Crew and again with music by Purple Motion (a.k.a Jonne Valtonen). This is the second part of the two part 'Journey' they were on.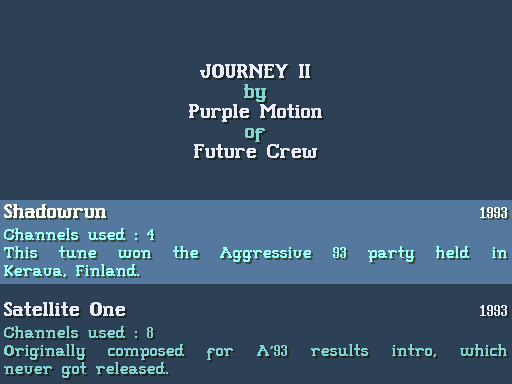 The order of the tracks may not be the same as on the original Music Disk, as these (above) are sorted in alphabetically.
The tracks for this Music Disk was created and released in 1993.
If you look close, you may notice that this Music Disk interface looks exactly like the previous Future Crew Music Disk – maybe all their Music Disk's.
Make your own
If you read the MDP.DOC file located in the Journey folders, you'll notice that you can use the Future Crew Music Disk interface to make your own Music Disk. Just add your own music and make the appropriate changes to the MDP.MDI file and then you have a Music Disk of your own.
Source of inspiration and material: Hornet Archive, Scene.org & Wikipedia