Many groups started their work on the Commodore 64, moved forward to the Commodore Amiga or Atari ST platforms and some later continued to the PC.
This article will be a "work in progress" as I really want this published, but the research and work it takes to complete will take forever – so this will evolve as I go along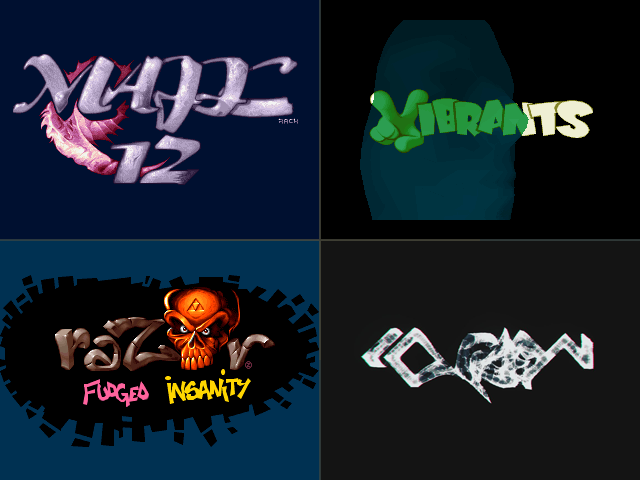 Future Crew
In the beginning of the 90, they were the best on the demo scene.
Future Crew had a flair for the story element in their demos and together with the musical side it all came together in a symbiosis. This was true though, for many mega-demos (or longer demos) but still Future Crew has some flair for the entire user-experience and at the same time show of many new skills and elements that was to be copied and developed further by other groups.
Future Crew had a slight advantage on the music module side, as Future Crew developed the ScreamTrack music software, that extended the .MOD file format from 4 channels to 32 supported in the .S3M format.
Even though the music was very sophisticated and fitted their "movies" perfectly, I never really saw this as music like other chiptunes a bit more like movie soundtracks.
Actually, I've never listened to a single Future Crew track without running their demos.
Triton
From early to mid 1990's, Triton was on the top of their game.
Though they only released two demos for the PC, they were both equally as great as any of the great Future Crew demos. Triton understood the need for a great music track (or tracks) in a demo and by the second demo they had the best, they had Lizardking on their side. Now we are talking about real chiptune/demo music.
Gustaf Grefberg (Lizardking) together with Joakim Falk, created their own music style: Doskpop. This is music you can listen to, for (almost) hours.
Until Mr. H and Vogue of Triton created their .XM music file format for FastTracker 2, they mostly went with the standard .MOD format for their music tracks.
Vitrants
My original plan was to start with the Commodore 64 article, as this is sort-of-the-beginning and then move to the PC article. But as I had 90% of the PC material ready for the PC, this was easier to start backwards.
Now the search for Commodore 64 material begins.
Maniacs of Noise
Stay tuned
Majic 12
In 1994 I saw my first Majic 12 demo. It was the "Show" and it really impressed me back then. I'm more impressed with their skills and graphics than their early music (music style).
Danish Pirate Society 2010
Stay tuned
Pigs in Space
Our group, Pigs in Space (PIS) was a short-lived demo group based in Herlev (Sønderhavevej), Denmark and we only released one demo – but had plenty of dreams and visions, that never was realized.
This article was actually inspired by an very honest article I read by Chordian (a.k.a JCH – a name know by most retro computer nerds), where he wrote this "Computer chronicles" in a 5 part series (parts: 1, 2, 3 ,4 & 5).

His journey will take you though the C64, a short session on the Commodore Amiga and fast forward right on to the PC. In this adventure, you'll meet musicians like: Drax, Jesper Kyd (briefly), Johannes Bjerregaard, Laxity, Link & Maniacs of Noise – just to name a few
And PIS, is funny, in Danish as it translate to "pee". And do remember that we were juvenile and very stupid. PIS could also be Politiets Indsatsstyrke – but still only funny if you are a Dane.
FURTHER READING
Source of inspiration and material: DemoZoo, Scene.org & Wikipedia