Commodore Amiga platform
Take a trip back in time, and listen to some of the work of Chris Hülsbeck and Rudolf Stember.
I have never played this game nor ever seen it, but have recently learned that this is considered one of the best games made for the Amiga. So, for that reason I thought I needed to take a closer look on this game.
What is this?
Listening to the game music – once again a collaboration between Chris Hülsbeck and Rudolf Stember – and looking at the screenshots, I can only images how great it must have felt playing this game 30 years ago. And the music is almost perfect for this type of game.
Of the more that 4000++ games that exists for the Amiga – I've played around roughly 200 of these – I can say that only a handful of these games had music that suites a game s great as this music does.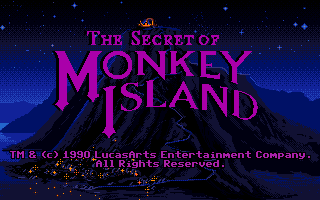 The music was originally created by in-house musician Michael Land for Lucasfilm Games, in a sort of pirate reggae style.
Game music from 'The Secret of Monkey Island'. Game was made by Lucasfilm Games and was released in 1991 by US Gold.
Source of inspiration and material: Wikipedia & LemonAmiga