Disclaimer: This article series doesn't define the history of the intro/demo/megademo, for neither the Amiga nor any other platform. This is the point of view, I have chosen to write the article series, and in a way how I lived it. Your experience may vary.
The Megademo
At some point a demo just wasn't enough and an inevitable evolutionary step was the megademo.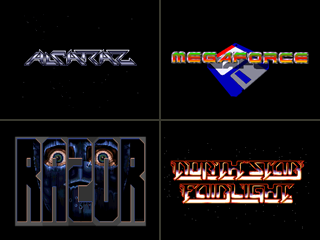 A megademo were like a number of regular demos put together. Each section of the megademo was an extensive and thorough review of a particular subject to show, this being a special scroll text, a vector figure or a shit-load of bobs as an example. A section of a megademo could easily run for a couple of minutes, this meaning that each section could have its own score – and often did.
Aurora, Fragile Intensity
Audio clip: Adobe Flash Player (version 9 or above) is required to play this audio clip. Download the latest version here. You also need to have JavaScript enabled in your browser.
Beastie Boys, Megademo
Audio clip: Adobe Flash Player (version 9 or above) is required to play this audio clip. Download the latest version here. You also need to have JavaScript enabled in your browser.
Budbrain, Megademo
Audio clip: Adobe Flash Player (version 9 or above) is required to play this audio clip. Download the latest version here. You also need to have JavaScript enabled in your browser.
Crionics, Megademo
Audio clip: Adobe Flash Player (version 9 or above) is required to play this audio clip. Download the latest version here. You also need to have JavaScript enabled in your browser.
The sections in the megademo were often split with a fade-out and then an image that was subject to some image manipulation or magnification effects, and then a fade-in to the next section of the demo.
Dexion, Megademo
Audio clip: Adobe Flash Player (version 9 or above) is required to play this audio clip. Download the latest version here. You also need to have JavaScript enabled in your browser.
Dual Crew, Megademo
Audio clip: Adobe Flash Player (version 9 or above) is required to play this audio clip. Download the latest version here. You also need to have JavaScript enabled in your browser.
Frazion, Revenge
Audio clip: Adobe Flash Player (version 9 or above) is required to play this audio clip. Download the latest version here. You also need to have JavaScript enabled in your browser.
Kefrens, Megademo
Audio clip: Adobe Flash Player (version 9 or above) is required to play this audio clip. Download the latest version here. You also need to have JavaScript enabled in your browser.
I believe that one of the most famous mega demos, from my time so to speak, was the 'Budbrain Megademo'. This was far from the best megademo, but there was something about the overall storyline and the individual demos. I remember us seeing it for the first time, back in the 90's or whenever. The story about the burglar, with the sample from 'The Terminator' was just fabulous, not to mention the 'Beatbox bird' – Really great stuff.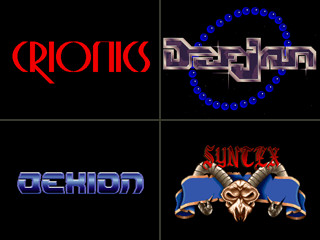 At first the megademo were fitted onto only one floppy disk (back to front) and as the megademo grew and became more extensive and with even more music and graphics, they grew onto two floppy disks. I remember the first two disk megademo that I saw. It was the 'RSI megademo', the one with Jonah Hex/Eddie and the lit matchstick that was animated.
Megaforce, Megademo
Audio clip: Adobe Flash Player (version 9 or above) is required to play this audio clip. Download the latest version here. You also need to have JavaScript enabled in your browser.
NorthStar, Megademo
Audio clip: Adobe Flash Player (version 9 or above) is required to play this audio clip. Download the latest version here. You also need to have JavaScript enabled in your browser.
Pure Metal Coders, Megademo
Audio clip: Adobe Flash Player (version 9 or above) is required to play this audio clip. Download the latest version here. You also need to have JavaScript enabled in your browser.
Scoopex, Megademo
Audio clip: Adobe Flash Player (version 9 or above) is required to play this audio clip. Download the latest version here. You also need to have JavaScript enabled in your browser.
A megademo was a challenging task to complete, this meaning that it often was the larger groups that would do this type of demo. This doesn't mean that the smaller groups couldn't or didn't create a megademo.
Skid Row, Megademo
Audio clip: Adobe Flash Player (version 9 or above) is required to play this audio clip. Download the latest version here. You also need to have JavaScript enabled in your browser.
Static Bytes, Megademo
Audio clip: Adobe Flash Player (version 9 or above) is required to play this audio clip. Download the latest version here. You also need to have JavaScript enabled in your browser.
The Silents, Megademo
Audio clip: Adobe Flash Player (version 9 or above) is required to play this audio clip. Download the latest version here. You also need to have JavaScript enabled in your browser.
Trilogy, Gigademo
Audio clip: Adobe Flash Player (version 9 or above) is required to play this audio clip. Download the latest version here. You also need to have JavaScript enabled in your browser.
Vortex 42, Megademo
Audio clip: Adobe Flash Player (version 9 or above) is required to play this audio clip. Download the latest version here. You also need to have JavaScript enabled in your browser.
Group List
A short list of highly active megademo groups:
And most of them are to be found on YouTube.
Downloads
Aurora (Fragile Intensity)
Beastie Boys (Megademo)
Budbrain (Megademo)
Crionics (Megademo)
Dexion (Megademo)
Dual Crew (Megademo)
Frazion (Revenge)
Kefrens (Megademo)
Megaforce – Megademo
NorthStar (Megademo)
Pure Metal Coders (Megademo)
Scoopex (Megademo)
Skid Row (Megademo)
Static Bytes (Megademo)
The Silents (Megademo)
Trilogy (Gigademo)
Vortex 42 (Megademo)
Further reading
Source of inspiration and material: Kestra BitWorld on ExoticA