Commodore Amiga platform
Aegis Sonix article, part IV
The Original
Another original Aegis Sonix score played on the WinUAE emulator. This is one of many collaborations between Peter A and me and this is one better Sonix scores I've been a part of – if I may say so.
The Creation
I started the track with the baseline (again, a standard octave bass) and the drums, as I've, back then, just had done a lot of new drum samples and wanted to test them out at Peter's place. I wanted to try a two snare drum setup, there the loud snare would have complete silence.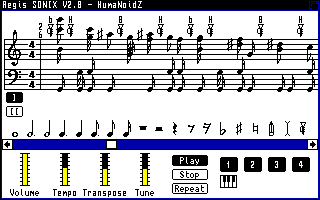 Quickly after, I was pushed aside and Peter, took over the keyboard and the composing of the main tune. After the main tune was complete, the rest of the tune came rather natural for us and we just "went with it". I'm not 100% sure that we ever did finish it.
– The updated Editor score, can be found here.
Further reading
Sonix – The originals, part 4 (this page)