Commodore Amiga platform
Thrust was a very active demo group, from Germany. They were very active in the crack/spread of games. I believe that this demo was from the 'Impossible Mission II' game for the Amiga.
I remember this tune very well, and I like it a lot. I'm often humming this track to my self, especially the beginning of the tune.
The score is composed by AXK and it's named 'AXK10' – but I've always called it 'The Thrust theme'. It's made in a SoundTracker like version.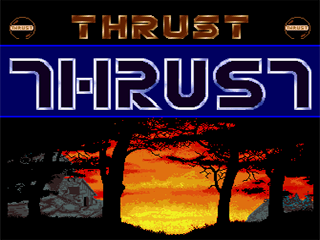 Watch intro: @YouTube
Source of inspiration and material: Exotica