Commodore Amiga platform
I believe that Spreadpoint made this intro/demo to the game 'Led Storm'. The music, especially the beginning, is pretty cool. I believe that this demo had a scroll-text (of many) with an 'lykkehjulseffekt' (Wheel of Fortune). It was not so impressive after all.
The intro is called 'X-Large' and the tune is called SpreadPoint Theme and was composed by Ernie, in a SoundTracker like version.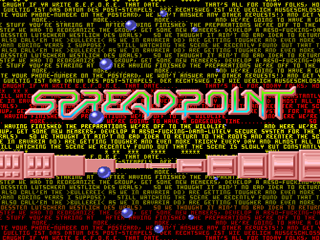 Watch intro: @YouTube
Take it further

:

In my search for the 'X-Large' music, I've found these two other tracks. Listen and judge for your self.
Source of inspiration and material: Exotica