Commodore Amiga platform
Take a trip back in time, and listen to some of the work of Chris Hülsbeck.
Just like its predecessor, Turrican, is Turrican II filled with a lot of music – this time more that 35 tracks. A few good tracks and a lot of fillers.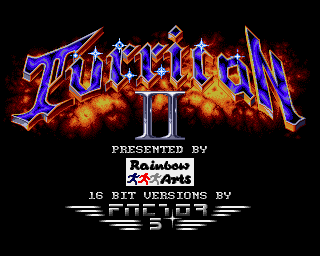 Audio clip: Adobe Flash Player (version 9 or above) is required to play this audio clip. Download the latest version here. You also need to have JavaScript enabled in your browser.
Game music from 'Turrican II'. Game made by Factor 5 and was released in 1991 by Rainbow Arts.
Longplay: @Youtube
Downloads: Loader, Intro & Title 1, Intro & Title 2, Intro & Title 3, World 1-1, World 1-2, World 1-3, World 1-4, World 1-5, World 1-6, World 1-7, World 2-1, World 2-2, World 2-3, World 2-4, World 2-6, World 2-7, World 2-8, World 3-1, World 3-2, World 3-3, World 3-4, World 3-5, World 3-6, World 3-7, World 3-8, World 4-1, World 4-2, World 4-3, World 5-1, World 5-2, World 5-3, World 5-6, World 5-7, World 5-8, World 5-9, World 5-13
Source of inspiration and material: Wikipedia, Exotica & LemonAmiga