Commodore Amiga platform
Take a trip back in time, and listen to some of the work of Mike Davies.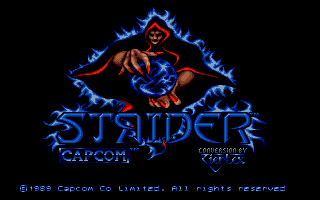 A great game with decent music, I've enjoyed many many times in the past. I remember two specific things about this game: The super cool jump and the sword.
Audio clip: Adobe Flash Player (version 9 or above) is required to play this audio clip. Download the latest version here. You also need to have JavaScript enabled in your browser.
Game music from 'Strider'. Game made by Tiertex and was released in 1989 by US Gold under license from Capcom.
Downloads: Title, In-game 1, In-game 2, In-game 3 & In-game 4
Source of inspiration and material: LemonAmiga, Exotica & Wikipedia