In the beginning
This started sometime in the beginning of 1981, a new pastime was invented. It was a handheld LCD game. On the screen was painted the graphics for the game, often in color, and all the moving part was just black parts on the LCD display.
This was of course the "Nintendo Game & Watch" system.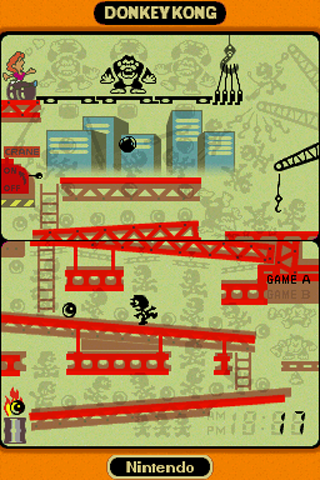 Nintendo, Donkey Kong (Game & Watch)
I remember all kids in my town standing in line at the local toy store in Herlev, waiting in turn to play one of these awesome new games. I remember once me and my sister waiting in line for an hour or two, and when I finally had my turn to play, I blew it in two minutes and then I was dead, and back in line for my next try. This was of course "Donkey Kong" – the holy grail of Game & Watch games.
It was first when my class mate from school, Henning, got his own "Donkey Kong" game, that I learned how to play the game properly. I remember one sleepover at Henning's house, where I played non-stop, for 20 hours or something like that. I almost had enough that weekend.
Later, at my birthday I got "Greenhouse" from my dad. This was a very stressful game. Bugs and critters everywhere, trying to get my plants. I really hated this game. And it had the most annoying sound when one of the spiders got a hold of one of the plants.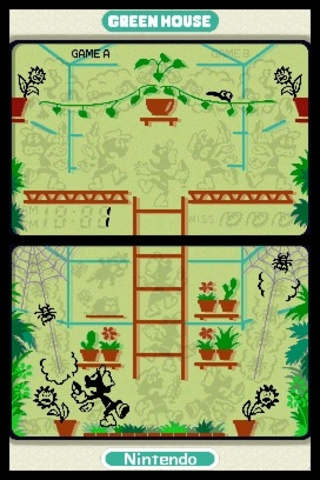 Nintendo, Greenhouse (Game & Watch)
All the kids took their games to school and in every recess and lunch break we swapped games and played like crazy. And it was really a kick in the teeth, when you were on a roll beating the high-score and the bell rang to class again. One of the girls from my class had the "Donkey Kong Jr." and another had "Octopus". I really loved them, but newer got to play them all that much. I also liked "Oil Panic", "Parachute" and the "Mickey & Donald" game.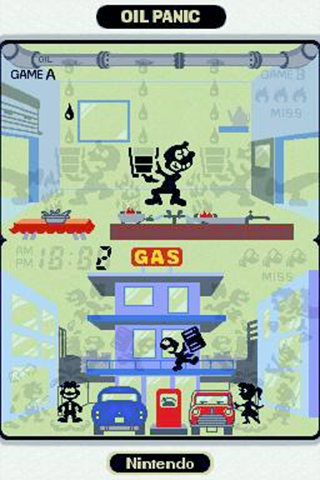 Nintendo, Oil Panic (Game & Watch)
I never got to see the Donkey Kong II, Super Mario or Zelda games though.
There were others
There were other manufacturers of Game & Watch type games. My little sister had a game called "Trojan Horse". This game was made by Gakken.
I also remember some other great games, all from a company called Epoch. They had an upright orientation of the screen and a four "directional" buttons. They made games like "Monster Panic", "Pak Pak Man" and a Pac-Man clone called "Mini Arcade". They were top notch entertainment. I believe that the Epoch games were the only games, where every game was released in more than one color.
I believe that the "Game & Watch" period for me was over after a year and a half. Short but fun!
During my rediscovery of the Game & Watch games, I've found a surprising the lack of information about the Game & Watch system on Nintendo's own website. Only the 2009 Nintendo DS versions were available.